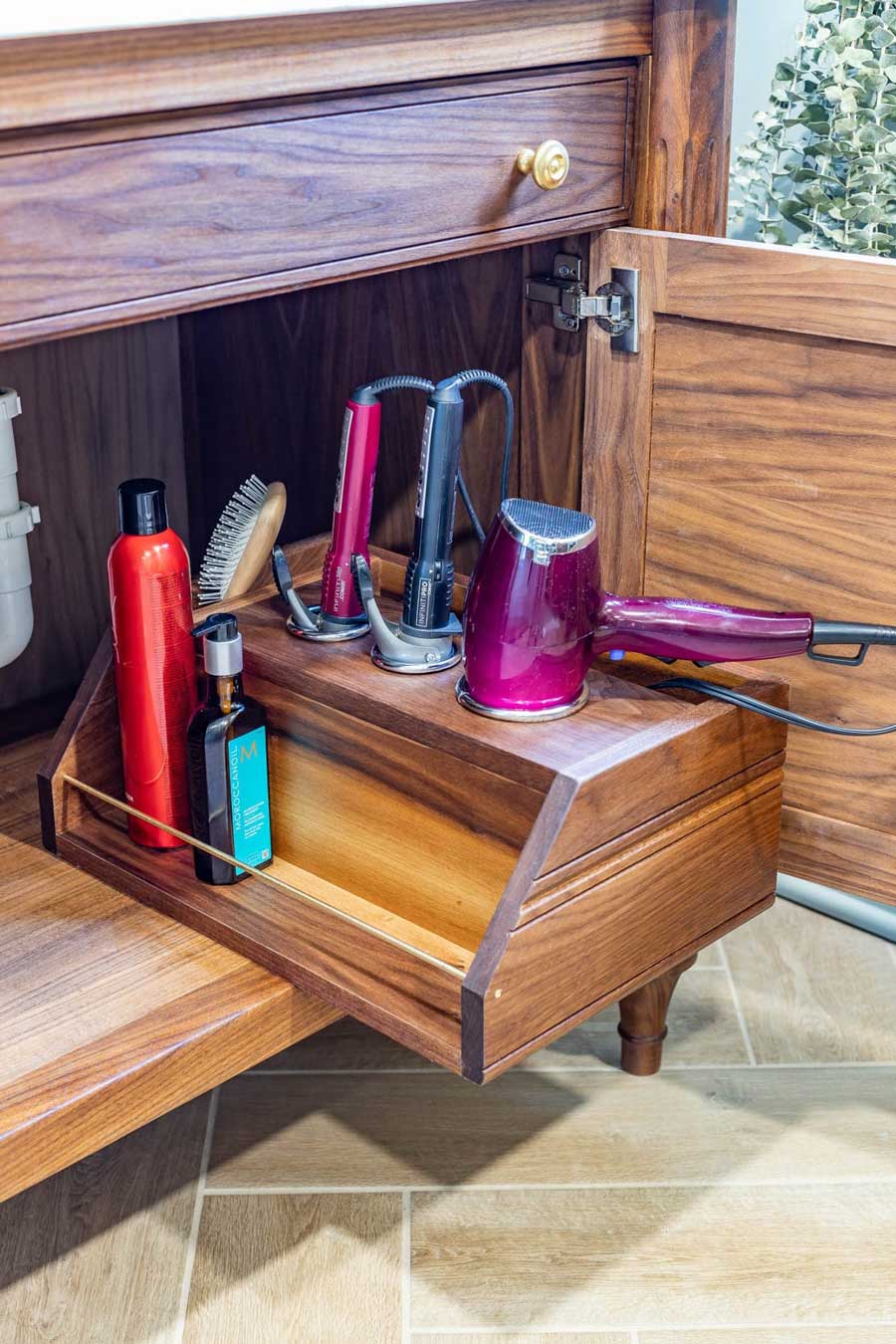 Looking for a way to organize all the hair tools under your sink? We have just the project or you! Follow along as we outline how you can make your own hot hair tools organizer.
What You'll Need
Before you get started, here's what you'll need.
Tools:
-Pneumatic Nail Gun
-Saw
-Jigsaw
-Drill
-Tape Measure
-PPE (dust mask, eye goggles, hearing protection)
Supplies:
-Scrap Wood
-3-inch Hair Dryer Holder
-2-inch Curling Iron Holder
-Wood Glue
-Nails
-Protective Finish
How to Create It
Do you have scrap wood lying around from old projects? This is the perfect time to put them to use! If they are all the same type of wood, great! But if not, that is ok too. A simple stain will give them a uniform look. Once you have sourced your pieces of wood, here is how the pieces should be cut.
Sides: 12 inches by 7 inches x's 2
Bottom: 16 ½ inches by 11 ¼ inches
Back: 16 ½ inches by 7 inches
Dryer/ Curling Iron Organizer: 14 ¼ inches x's 3
Brush/Comb Organizer: 7 ¾ inches by 6 ¼ inches
Brush/Comb Organizer: 6 ¼ inches
Once you have all your pieces cut in the sizes you need, it is time to assemble! Follow along with this PDF guide for even more detailed instructions.
After the piece is fully nailed and glued together, stain or paint the piece to your liking. And voila! Now you have a beautiful, functional, handcrafted organizer. This piece can be stored easily ​ under your sink. It can fit all your hair products, brushes, and hot tools in one simple place. Even if your tools are not fully cooled down, this little organizer is made to handle and safely store your tools even when hot. If you didn't know what to do this weekend, consider taking on this project!
Raymus Homes is a homebuilder in Manteca, California. Contact us to tour one of our model homes!